Capital city Ha Noi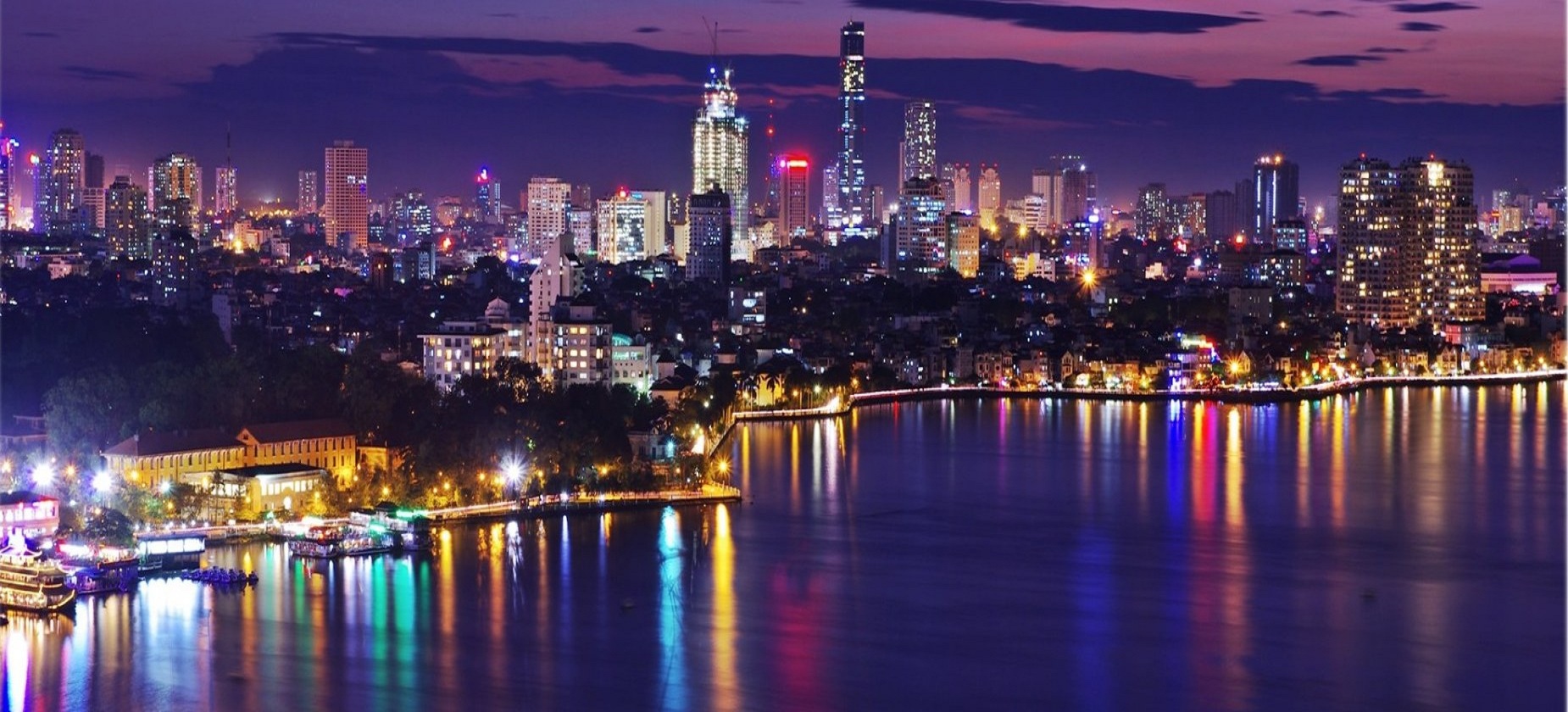 Hanoi is a very picturesque city, the metropolis sometimes dubbed the Paris of the East. With its tree-fringed boulevards, more than two dozen lakes and thousands of French colonial-era buildings, Hanoi is a popular tourist attraction.
In 2015, Hanoi ranks #4 in TripAdvisor's list of the World's Best Destinations (Travellers' Choice).
And Hanoi is the most affordable international destination in TripAdvisor's annual TripIndex report. Created to help travelers plan and budget their summer holiday, the TripIndex looks at the average cost of a three-night trip in 60 key tourist cities around the world.
Sapa

Located 38km from Lao Cai City, Sapa is a mountainous district of Lao Cai Province. Sapa District is very well-known with Sapa Townlet, a beautiful and romantic resort.
At the height of 1,600m above sea level, the average temperature of the area is 15-18°C. It is cool in summer and cold in winter.
Visitor to Sapa in summer can feel the climate of four seasons in one day. In the morning and afternoon, it is cool like the weather of spring and autumn. At noon, it is as sunny and cloudless as the weather of summer. And it is cold in the evening. With no advance warning of a thunderstorm short and heavy rains may come at noon on any summer day. Subsequently, a rainbow appears, transforming Sapa into a magic land, which for years has been a constant source of poetic inspiration, lights up the whole region.
The best time to witness the scenic beauty of Sapa is in April and May. Before that period, the weather might be cold and foggy; after that period is the rainy season. In April and May, Sapa is blooming with flowers and green pastures. The clouds that settle in the valley in early morning quickly disappear into thin air.
Ha Long Bay

Towering limestone pillars and tiny islets topped by forest rise from the emerald waters of the Gulf of Tonkin. Halong translates as 'where the dragon descends into the sea' and legend tells that this mystical seascape was created when a great mountain dragon charged towards the coast, its flailing tail gouging out valleys and crevasses. As the creature plunged into the sea, the area filled with water leaving only the pinnacles visible. The geological explanation of karst erosion may be more prosaic, but doesn't make this seascape any less poetic.
Designated a World Heritage site in 1994, Halong Bay's spectacular scatter of islands, dotted with wind- and wave-eroded grottoes, is a vision of ethereal beauty and, unsurprisingly, northern Vietnam's number one tourism hub. Sprawling Halong City is the bay's main gateway but its dowdy high-rises are a disappointing doorstep to this site. Most visitors sensibly opt for cruise-tours that include sleeping on board within the bay, while a growing number are deciding to eschew the main bay completely, heading straight for Cat Ba Island from where trips to less-visited but equally alluring Lan Ha Bay are easily set up.
Halong Bay attracts visitors year-round with peak season between late May and early August. January to March is often cool and drizzly, and the ensuing fog can make visibility low, but adds bags of eerie atmosphere. From May to September tropical storms are frequent, and year-round tourist boats sometimes need to alter their itineraries, depending on the weather. November's sunny blue-sky days and lack of crowds make it the best time to make a beeline here.
Ninh Binh Province

Ninh Binh is about 90 km away from Ha Noi to the south. Ninh Binh is located on Red river delta with geographical co-orrdinate from 19050' to 20027' at Northern latitude and from 105032' to 106033' at Eastern longitude. Ninh Binh shares the administative border with Ha Nam in the North, Nam Dinh in the East, the East Sea in the Southeast, Thanh Hoa in the West and Southwest, and Hoa Binh in the Northwest.
With over 1.377,57km² of natural area, Ninh Binh has forests, sea and a diverse system of fauna and flora. Ninh Binh topography encompasses plains and the mountains of the Vietnam northwest mountain range. Ninh Binh also keeps a strategic position for military security and social development. Here, troops were usually rallied on their way to the north or south of Vietnam, creating famous victories in Vietnamese national history.
Ninh Binh is endowed with many places of particular interest which have been welknown inside and outside Vietnam such as Tam Coc – Bich Dong, Cuc Phuong National Park, Trang An Grottoes and Van Long Nature Reserves. There are also many historical relics, for instances Hoa Lu Ancient Capital, Bich Dong Pagoda, Thai Vi Temple, Phat Diem Stone Cathedral, Tam Diep Defense Line.... All of them are attractive to both Vietnamese and foreign tourists. Ninh Binh is the charming land of myth and unique landscapes.
Old Capital city Hue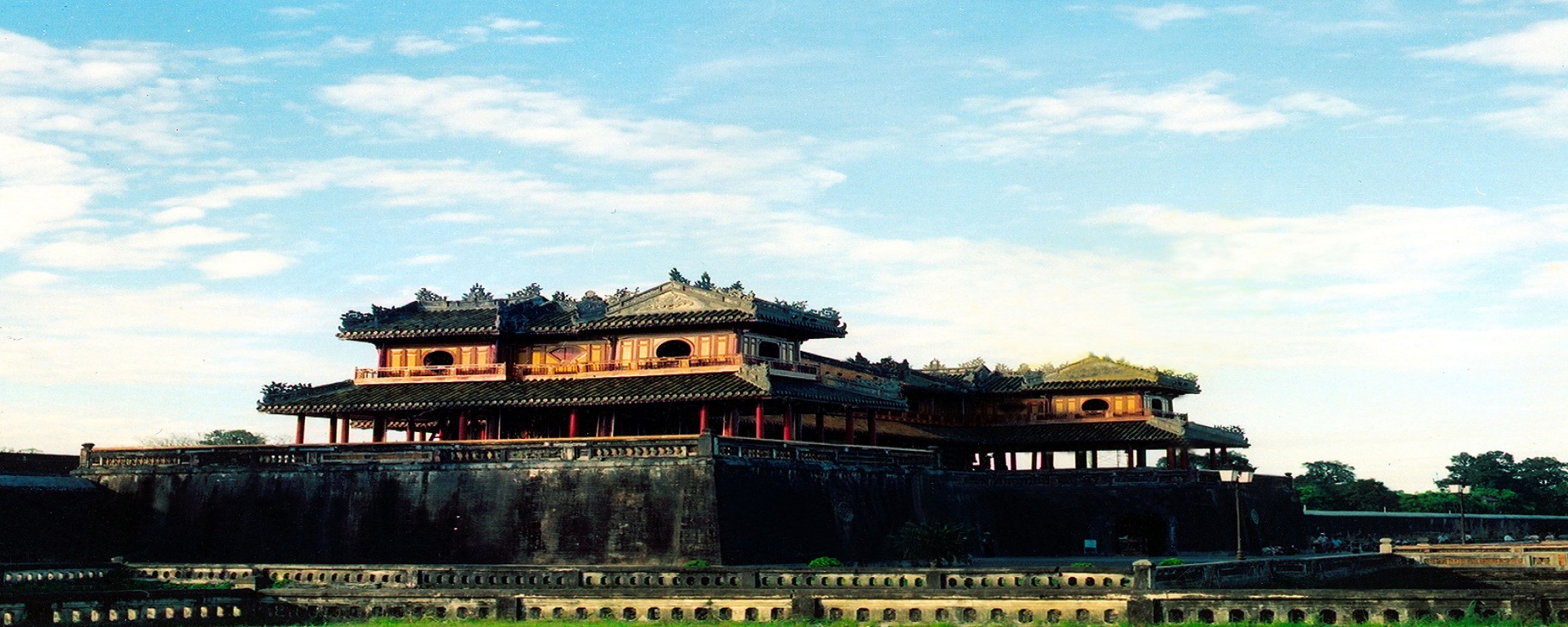 Huế is well known for its historic monuments, which have earned it a place in Unesco's World Heritage site. The seat of the Nguyễn emperors was the Imperial city, which occupies a large, walled area on the north side of the Perfune River. Inside the citadel was a forbidden city where only the emperors, concubines, and those close enough to them were granted access; the punishment for trespassing was death. Today, little of the forbidden city remains, though reconstruction efforts are in progress to maintain it as a historic tourist attraction.
Roughly along the Perfume River from Huế lie myriad other monuments, including the tombs of several emperors, including Minh Mang, Khai Dinh, and Tu Duc. Also notable is the Thien Mu Pagoda, the largest pagoda in Huế and the official symbol of the city.
A number of French-style buildings lie along the south bank of the Perfume River. Among them are Quoc Hoc High School, the oldest high school in Vietnam, and Hai Ba Trung High School.
The Hue Royal antiqulties Museum on 3 Le Truc Street also maintains a collection of various artifacts from the city.
In addition to the various touristic attractions in Hué itself, the city also offers day-trips to the Demilitarized Zone lying approximately 70 km (43 mi) north, showing various war settings like The Rockpile, Khe Sanh Combat base or the VInh Moc tunnels..
Da Nang city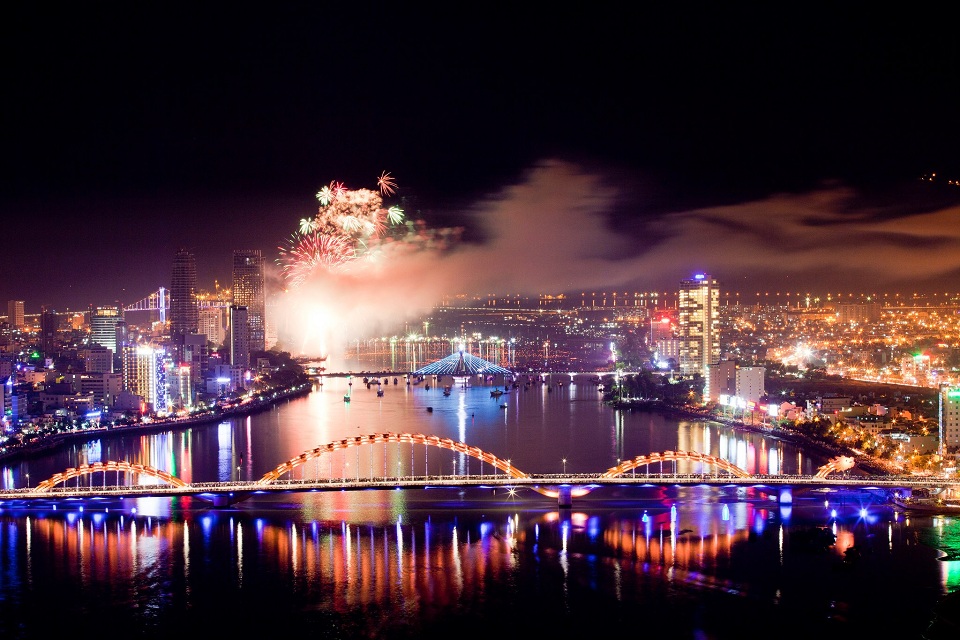 Da Nang is one of the major port cities in Vietnam (in addition to Ho Chi Minh city and Hai Phong) and the biggest city on the South Central Coast of VIetnam; the city is situated on the coast of the East Sea, at the opening end of the Han River. Đà Nẵng is the commercial and educational center of Central Vietnam, with a well-sheltered, easily accessible port; its location on the path of National Route 1A and the North - South Railway makes it a hub for transportation. It is located within 100 km of several Unesco World Heritage Site, including the Imperial city of Hue, the Old Town of Hoi An, and the My Son ruins. The city was previously known as Cửa Hàn during early Dai Viet settlement, and as Tourane (or Turon) during French colonial rule. It is the third biggest economic center in Vietnam (after Ho Chi Minh City and Hanoi). Danang is an ancient land, closely related with the Sa Huynh cultural traditions. Many imposing, palaces, towers, temples, citadels and ramparts, the vestiges from 1st to 13th are still to be seen in Cham Museum
Danang has other various interesting attractions as Ba Na Tourist Resort, Ngu Hanh Son (Marble Mountains) as well as the Linh Ung Pagoda, Han River, and My An, Non Nuoc beaches, stretching on dozens of kilometers…
Ancient Town Hoi An

Graceful, historic Hoi An is Vietnam's most atmospheric and delightful town. Once a major port, it boasts the grand architecture and beguiling riverside setting that befits its heritage, but the 21st-century curses of traffic and pollution are almost entirely absent.
Hoi An owes its easygoing provincial demeanour and remarkably harmonious old-town character more to luck than planning. Had the Thu Bon River not silted up in the late 19th century – so ships could no longer access the town's docks – Hoi An would doubtless be very different today. For a century, the city's allure and importance dwindled until an abrupt rise in fortunes in the 1990s, when a tourism boom transformed the local economy. Today Hoi An is once again a cosmopolitan melting pot, one of the nation's most wealthy towns, a culinary mecca and one of Vietnam's most important tourism centres.
This revival of fortunes has preserved the face of the Old Town and its incredible legacy of tottering Japanese merchant houses, Chinese temples and ancient tea warehouses – though, of course, residents and rice fields have been gradually replaced by tourist businesses. Lounge bars, boutique hotels, travel agents and a glut of tailor shops are very much part of the scene here. And yet, down by the market and over on Cam Nam Island, you'll find life has changed little. Travel a few kilometres further – you'll find some superb bicycle, motorbike and boat trips – and some of central Vietnam's most enticingly laidback scenery and beaches are within easy reach.
Phong Nha Cave - Quang Binh Province

Hang Thien Duong (Paradise Cave) discovered by scientists of the British Caving Research Association in 2005, has the length of 31km, the longest dry cave in Asia. With naturally primitive features Thien Duong Cave looks like a landscape painting, making it very attractive to visitors. According to spelunkers, the deeper one journeys into the cave, the more one feels the wells of heavenly clarity all around. There are a series of white crystal stalactites resembling glass pillars and many other spectacular formations.

Phong Nha cave is not only a natural legacy of the world or a wonder of the country Vietnam, but also a relic system of the historic street Ho Chi Minh which collaborates with Xuan Son Ferry in order to create a route supporting for the battleground of the South Vietnam during US War. Today, this place has become the first section of Ho Chi Minh trails. Therefore, coming to Phong Nha means you are visiting this legendary trails.
Mui Ne Beach - Phan Thiet

Mũi Né is a coastal resort town in the Binh Thuan Province. The town is close to the city of Phan Thiet. Tourism has transformed Mui Ne into a resort destination since 1995, when many visited to view the totalsolar eclipse of October 24, 1995. Mui Ne has many resorts on the beach, as well as restaurants, bars and cafes. Mui Ne is a popular destination for Russian tourists, and many of the restaurants and resorts are Russian-owned.

Mui Ne Beach is a popular tropical beach. Strong sea breezes make it very popular for kitesurfing and windsurfing. The tourist season is from December to May. The average temperature is 27°C, and the climate is hot and dry for most of the year.
Mui Ne has quickly been transformed from an isolated stretch of beautiful white sand to one long row of resorts. While there's still a fishing village at the east end of the beach, it's tourists that make up most of the population. The boom in top-end resorts hasn't killed the chilled surfie vibe, although it has brought an increasing number of up-market restaurants and souvenir shops. It's an unusual set up, as everything is spread along one 10km stretch of road – the accommodation is on the beach side, and the restaurants and bars mainly on the other.

Mui Ne sees only about half the rainfall of nearby Phan Thiet. The sand dunes help protect its unique microclimate, and even during the wet season (from June to September) rains tend to be fairly light and sporadic
Nha Trang

Welcome to Vietnam's ocean city! The capital of Khanh Hoa Province, Nha Trang sees a heavy local and international tourist influx, especially in the summer. The central beachside city area is quite busy and full of cheap guesthouses and small restaurants. The beach and its outlying islands have sprouted some fine new resorts. The surf isn't bad (for frolic, not for surfing) along the vast crescent-shaped beach in Nha Trang's central city, and the bright-blue vista is dotted by more than 20 surrounding islands. There are many good high-end hotels and resorts to choose from, and the high-rises in the town center hearken almost to a large beach town in Florida. Good budget options abound, too. Dining is all about fresh seafood.
Nha Trang is a very popular vacation spot for Vietnamese. In the summer months, the town is chockablock with tourists and young kids out "cruisin' the strip" on the main seaside avenue. The beaches of Nha Trang are a great place to spend 2 or 3 days playing in the surf, snorkeling and diving, or taking a cruise to the nearby islands. And Nha Trang's nightlife is thumping. Centering around the busy backpacker area along Biet Thu Street, the bars hop until late. In fact, the party often starts out on the boats by day and then continues at the bars until late. Prepare to shake thy booty at the beach.
Culturally, the Pasteur Institute offers a glimpse into the life and work of one of Vietnam's most famous expats. Both the Long Son Pagoda and the well-preserved Po Nagar Cham Temple are interesting sights.
Ho Chi Minh city

Hold on - Ho Chi Minh City is a metropolis that is going places. It's the flourishing fast-mover that's somehow secured old Saigon onto the seat of its shiny, new motorbike as it roars off into the future.
It's the mesmerising gateway to Vietnam where traditional and modern influences live side by side. High-rises loom over shabby French colonial villas; conical-hatted street vendors plod past karaoke bars and glitzy shops.
Like the bamboo, shoulder-pole baskets you'll see on the streets, Ho Chi Minh City is a balancing act of two parts: classical incense-filled pagodas are off-set by shopping malls and skyscrapers that wouldn't look out of place in the West.
It's a forward-looking city but still locals refer to it as Saigon, a name evocative of the past. One of the city's most poignant symbols is the Reunification Palace, where the last days of the Vietnam War were played out.
Saigon's story, however, was penned long before the American army waded in. Just wander around the beautiful Jade Emperor Pagoda, built by the Chinese in 1909, or search out Saigon Central Post Office for some grandiose French architecture.
Few visitors get further than Districts 1 and 3, home to the Independence Palace, Notre Dame Cathedral and Ben Thanh Market, but rambling Binh Tay Market in Cho Lon (Chinatown) is worth discovering too. For a total contrast head out to Phu My Hung, known as South Saigon, where wide streets, smart villas, condominiums and manicured parkland appear to have been transplanted from California.
Whatever you want, this incredible metropolis can deliver. Haggle hard in the markets or get measured up for custom-made clothes. Sip champagne cocktails with skyline vistas or swig cold Bia hơis (beer) from side street sup houses. Stay in grand international hotels or hide away in backpacker boltholes. Ho Chi Minh City is the face of new Vietnam and she's ready to show it off.
Me Kong Delta

The Mekong River is one of the world's major rivers. It is the world's 10th longest river and the 7th longest in Asia. From the Tibetan Plateau, it runs through China's Yunnan province, Burma, Thailand, Laos, Cambodia and Vietnam. The extreme seasonal variations in flow and the presence of rapids and waterfalls have made navigation extremely difficult.
The Mekong Delta is the region in southwestern Vietnam where the Mekong River approaches and empties into the sea through a network of distributaries. The Mekong delta region encompasses a large portion of southeastern Vietnam of 39,000km (~15,000 mi). The size of the area covered by water depends on the season.
One of the world's most fertile areas, the Mekong Delta is home to countless rice fields and tributaries across thousands of square miles of flat land. An overnight cruise in the Mekong Delta is definitely worthwhile, for the experience of awakening in the early morning to find floating markets and villages floating around you is incredible. The small sizes of the Song Xanh Sampans and Cai Be Princess are perfect for glimpses into the local ways of life while relaxing in the comfort of a floating boutique hotel. The restored colonial vessels of Pandaw and Bassac are great for Mekong Delta cruises between Saigon and Phnom Penh.